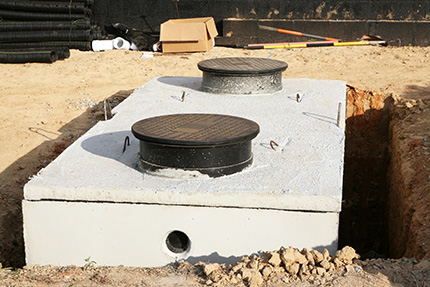 Homes, cottages, and other buildings located in a rural setting often require a septic tank for waste water treatment. Regular inspection and cleaning of septic tanks is necessary to ensure that they do not overflow or lead to harmful consequences due to improper drainage.
It's important to schedule septic tank cleaning according to the rate at which the tank fills up and the municipal bylaws and provincial regulations in effect. Regardless of the size of the tank or the type of building (house, business, institution, industrial building), Éclair Plomberie & Chauffage ltd. is able to assist you with your septic tank cleaning duties.
Inspection
In addition to providing septic tank cleaning services, Éclair Plomberie & Chauffage ltd. is a certified inspector of septic tanks. Our team can assess the condition of your tank and ensure that it functions properly according to relevant standards. During our inspections, we verify baffles, filters, drainage, etc.
Customized pumping services
Our septic tank cleaning service can be tailored to the tank's properties and the client's demands. Thanks to our powerful and specialized pumping equipment, we can pump out the tank's waste content either in part or in full.
Compliance with regulations
Monitored by the municipal and provincial governments, septic tank cleaning must be carried out in compliance with standards and regulations issued by these governing bodies. Éclair Plomberie & Chauffage ltd. ensures that all procedures, including installation, inspection, pumping, and cleaning of septic tanks, are carried out following current standards.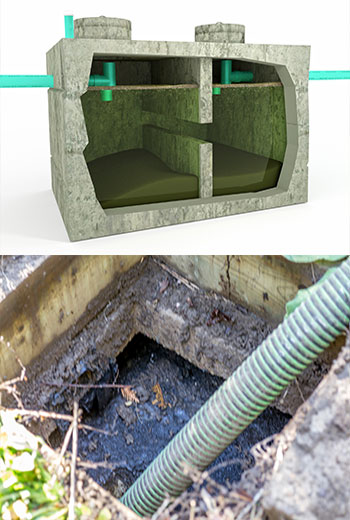 Want to know more about our septic tank cleaning services?
Contact us today! Éclair Plomberie & Chauffage ltd. serves all of Outaouais (Gatineau, Ottawa, Hull, Aylmer, Buckingham, etc.) and surrounding areas.